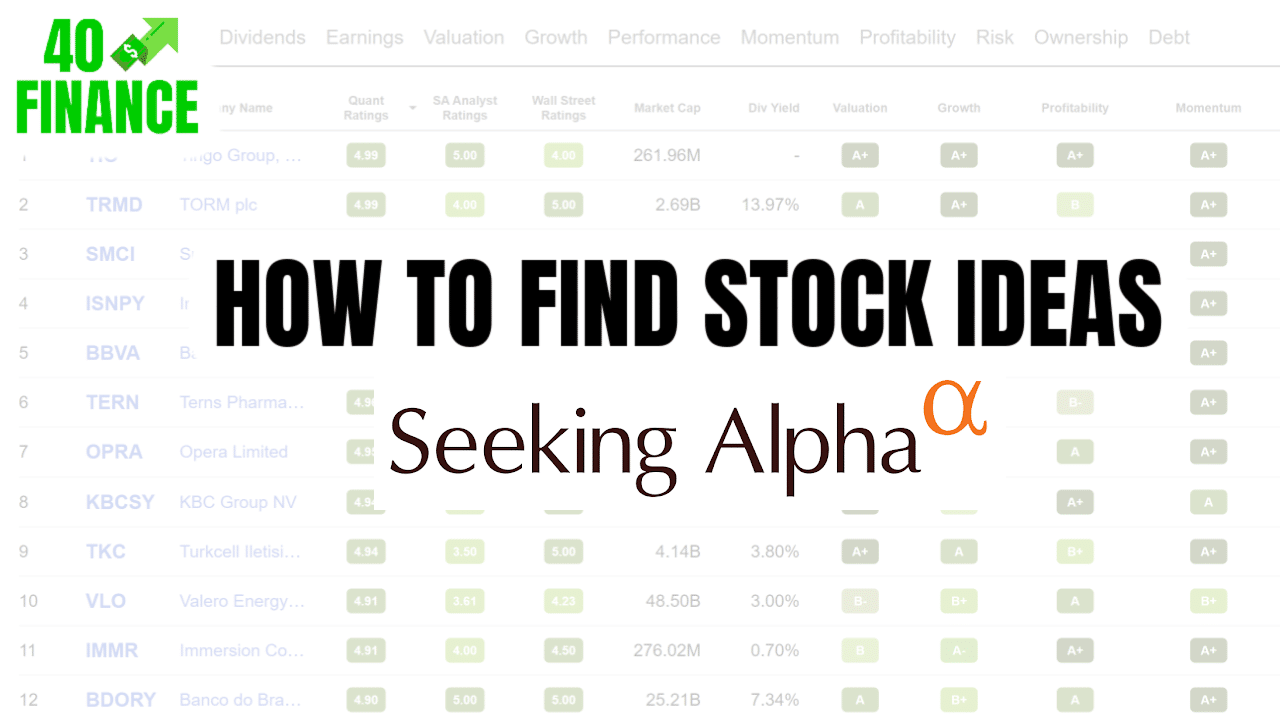 Seeking Alpha offers several different ways to find stock ideas, and perhaps more importantly, qualify each idea with data and analysis to help you make an informed decision. Whether you are a fundamental or momentum investor, Seeking Alpha gives you a broad set of filters and screening options to make finding stock ideas easy and efficient.
This post highlights my favorite ways to sort through stocks on the Seeking Alpha platform. From their expansive stock screener, to their curated lists of top stocks, there are dozens of different options to customize your stock discovery process.
🔥 Get the best signup offers for SA Premium on my Seeking Alpha Discounts Page!
Seeking Alpha Stock Screener
The Seeking Alpha stock screener is a powerful tool that allows you to filter stocks based on a variety of criteria. Of course there are the standard filters for market cap, sector, dividend yield, P/E ratio, and price indicators. The real value though is in the advanced filters you can customize for each search.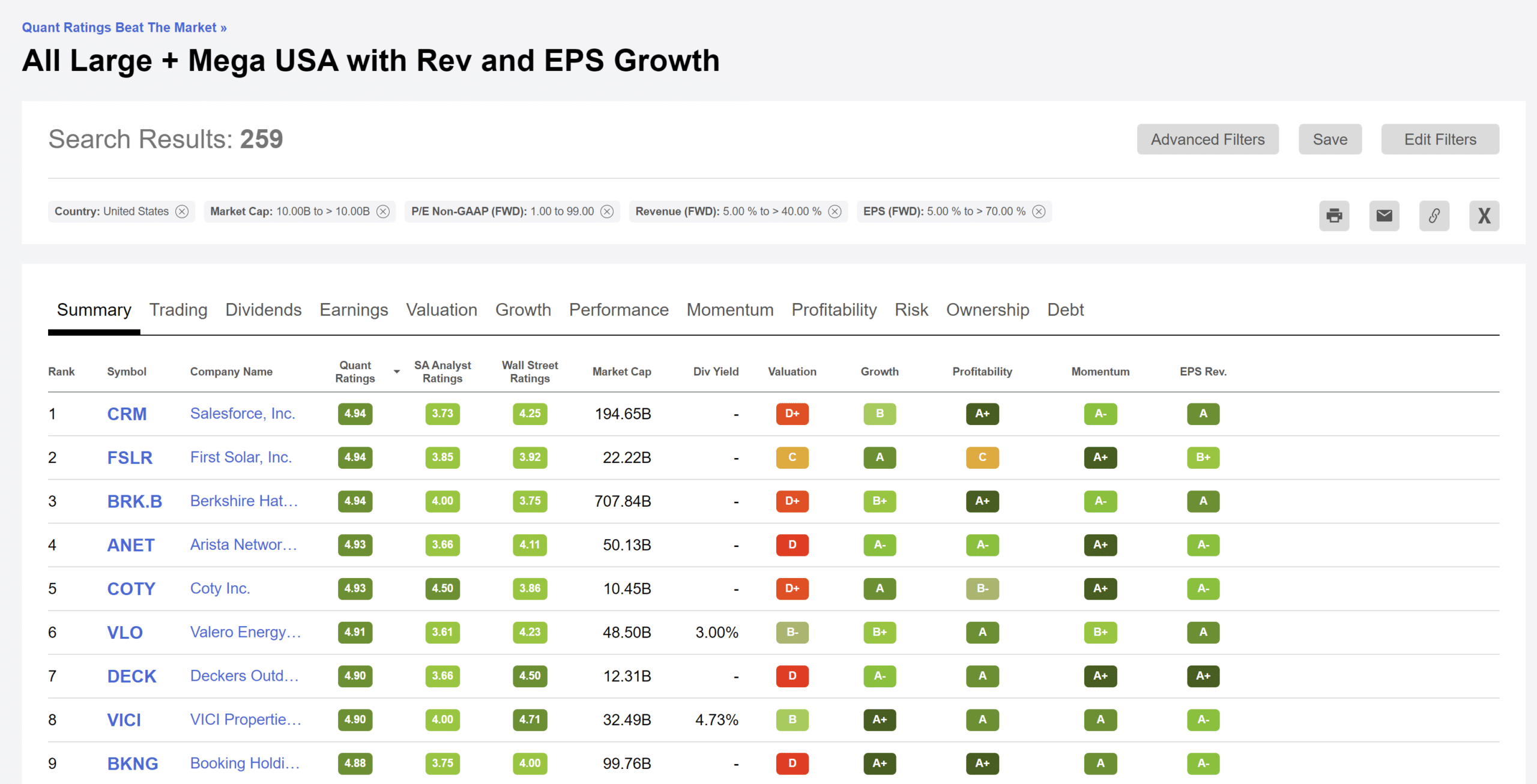 The image above shows a screener I created for large and mega cap stocks based in the United States. I added additional filters to screen only for companies that are projected to show revenue and earnings growth over the next year.
The SA stock screener literally has dozens of filters across categories such as valuation, quant score, growth, profitability and momentum. For the example above, I added forward EPS growth and forward revenue growth. From there I set those filters at +1 to only include those companies who are growing at the top and bottom line. Most tools can only look at backwards metrics, but Seeking Alpha's screener includes forward projections as well.
Top Stock Lists
If you are looking for quick stock picks that meet certain criteria, Seeking Alpha has over 20 pre-filtered lists available on their Top Stocks page. These are actually screener pages with defined parameters, so technically the lists get refreshed each day when the data changes. These lists can be a great starting point for finding stock ideas.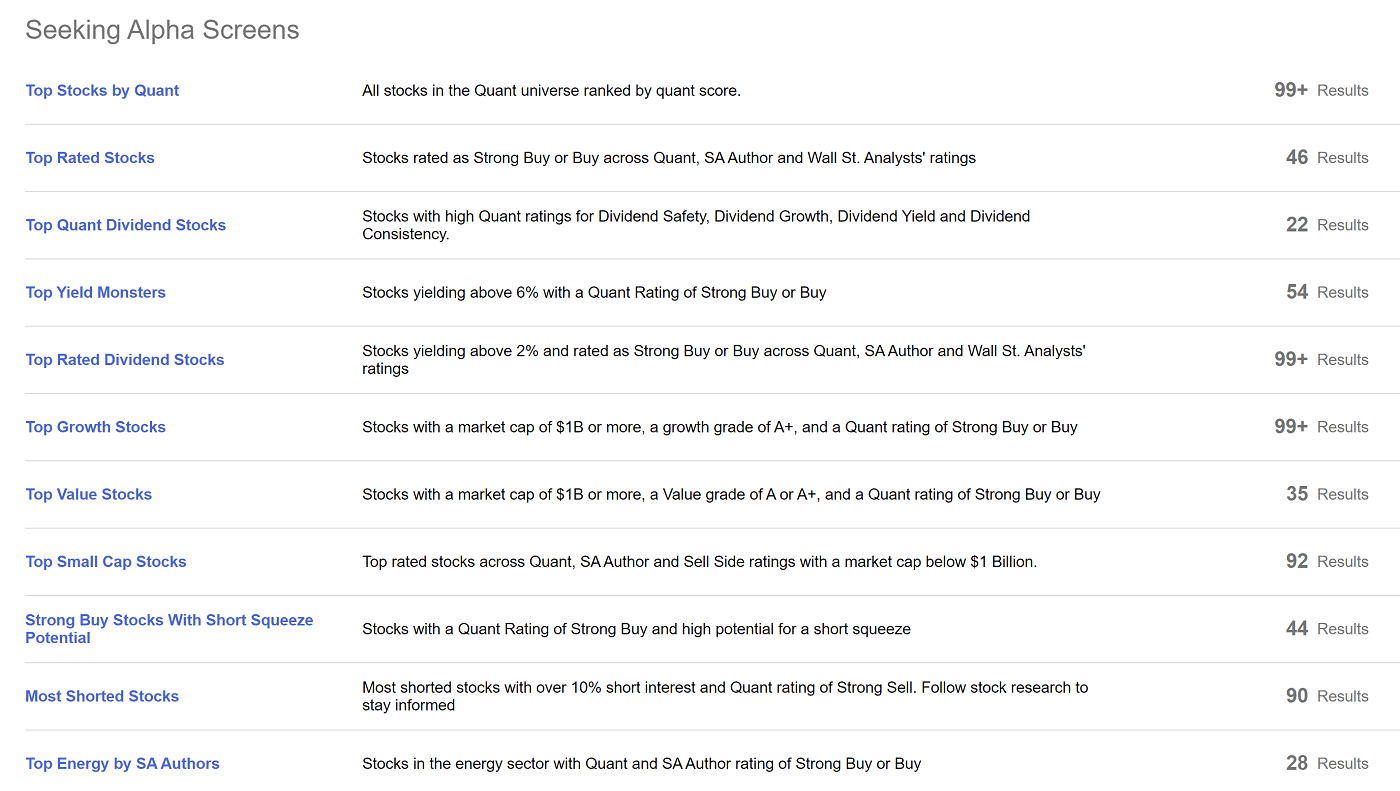 One thing to keep in mind when using these pre-filtered top stock lists is that many of them are based on the Seeking Alpha quant scores. These scores are based on an algorithm that measures a stock across the five categories of valuation, growth, profitability, momentum, and EPS revisions. While this is incredibly helpful in terms of saving time, you should always dig deeper to qualify picks made by an algorithm.
Top Analysts by Investing Approach
Another way to find stock ideas in Seeking Alpha is to look through the analysis articles written by authors within the SA community. You navigate through the articles by investing categories (pictured below) or by reading the latest articles by the top performing analysts. Seeking Alpha has a section where it ranks analysts based on when their performance since they published a buy, sell, or hold article.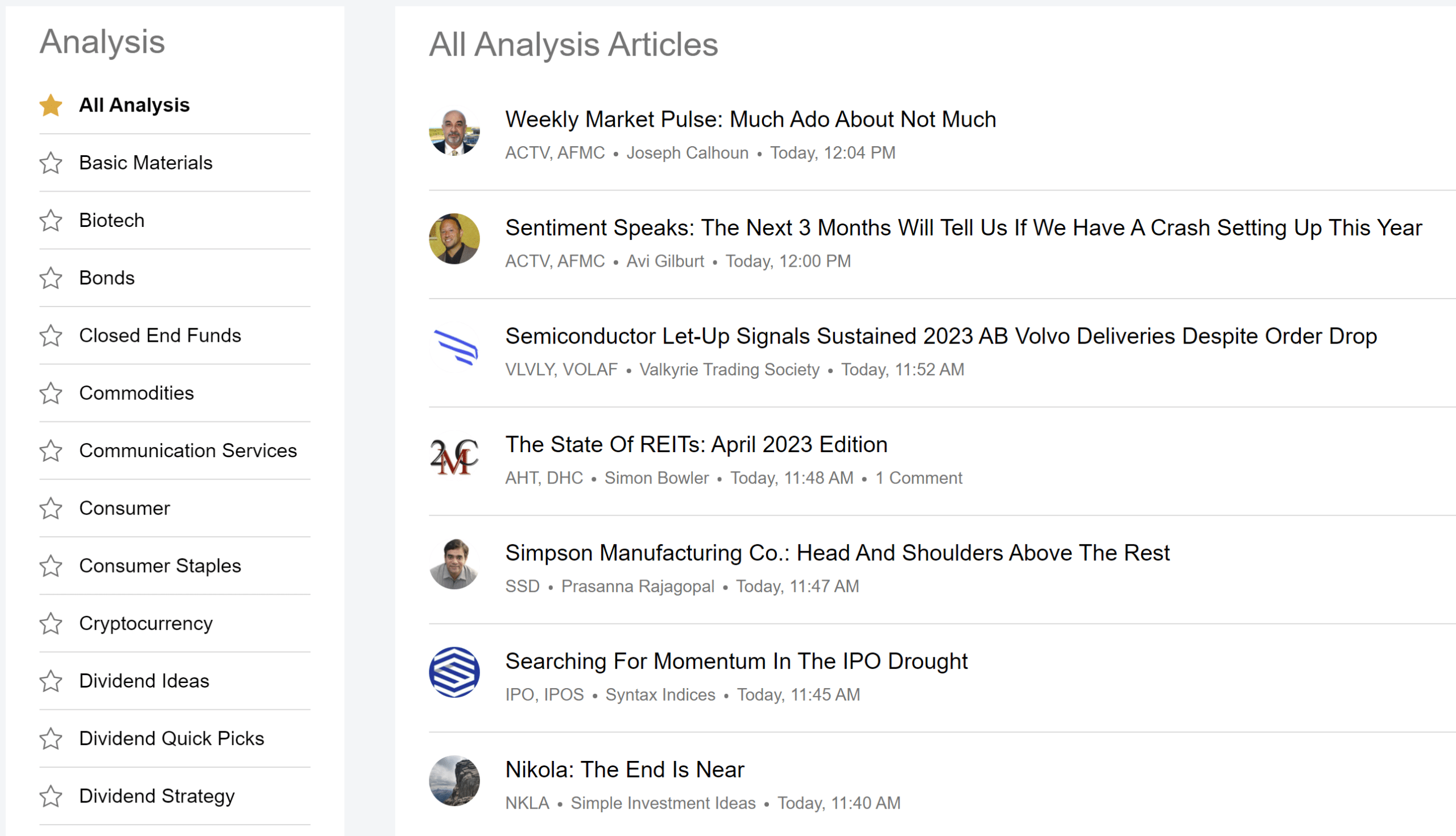 While all of the analysis articles are technically opinion pieces, the expectation from the community is for authors to provide a hypothesis and data to support their analysis. Authors have to choose to indicate a buy/sell/hold rating for each stock they write about. This allows the reader to easily review the track record of the person providing the recommendation.
I typically start my search for new stock ideas by sorting through the growth projections of a company. From there I read through the latest analysis articles to give me another perspective on the stocks I'm interested in. To me, this is the true value of this stock research platform…having quick access to multiple vantage points of the stocks I'm interested in.
Bottom Line
When it comes to discovering stock ideas, Seeking Alpha not only gives you a host of different tools to save you time, but it also provides different perspectives to measure a stock's potential. It is rarely enough to make an investment based on one opinion or number, which is why having access to multiple tools is important. Luckily for retail investors like myself, Seeking Alpha checks all of these boxes.
💡Interested in learning more about SA Premium? Check out my detailed review here.