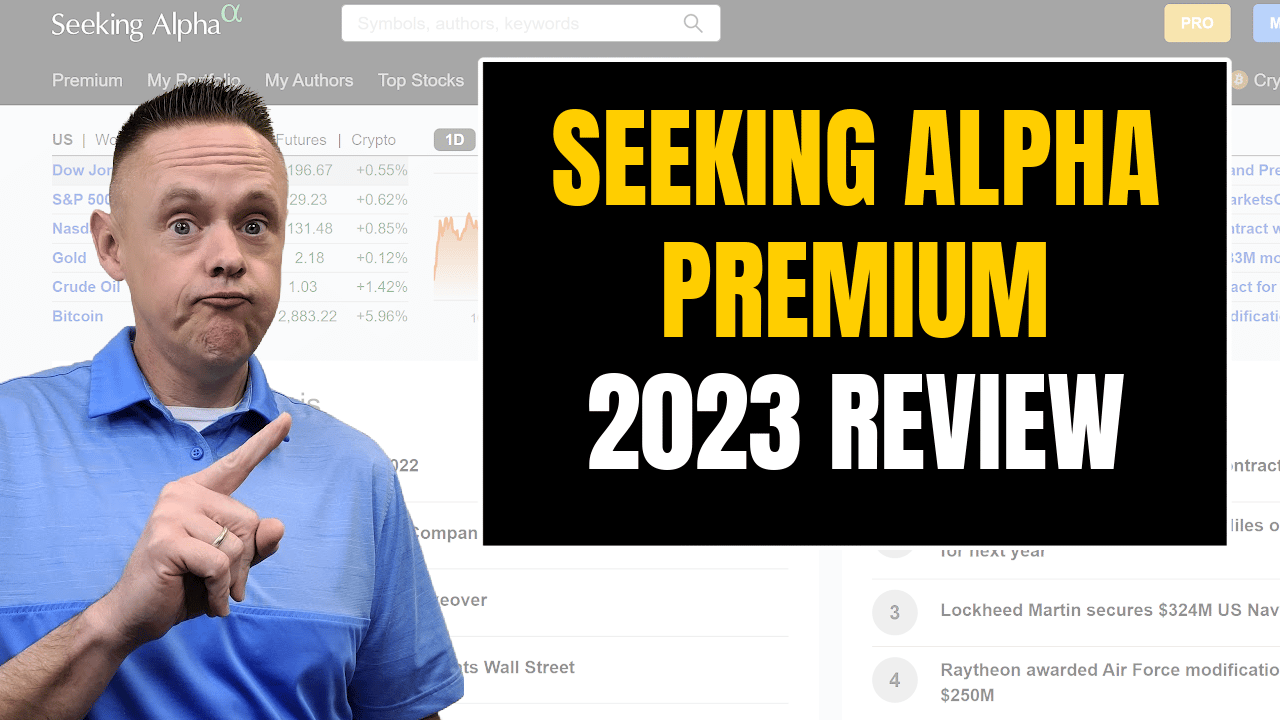 Investors have an endless array of stock market websites to choose from, each promising to make us a "better investor." Having tried dozens of different stock tools, my assessment of each one always boils down to one simple metric…how often do I use it? As you'll read in this Seeking Alpha review, the fact I use this stock research platform every day is one of the biggest compliments I can give.
Before we get into my 2023 review of Seeking Alpha Premium it is important to mention that I am an SA affiliate. If you watch my YouTube channel then you know I often feature their tools and stock ratings in my content. I do Seeking Alpha reviews like this to help new users understand if the platform will be beneficial for their needs. The commissions I earn help support my channel and it is an easy "sell" for me because I use the product every day!
Save 50% off 1 year of Seeking Alpha Premium with this 40 Finance discount offer!
What is Seeking Alpha Premium?
Seeking Alpha is a stock market website and investing community that features one of the largest pools of data for nearly every U.S. security. In addition to their proprietary quant algorithm and sector scores, you will also find a diverse community of investors who publicly share their own stock ratings and outlooks.
Seeking Alpha does offer a few basic features for free if you register an account and login. This includes access to approximately 3 free articles per day and a basic level of stock data. Note that you have to login in order to access these limited features, and none of the quant ratings will display as a free user.
Seeking Alpha Premium is the subscription that unlocks access to all of the quant ratings, years of stock metrics, screening tools, and all news and analysis articles. There is also a Pro subscription, but the Premium version includes all of the features I use regularly.
The regular cost for Seeking Alpha Premium is $239 per year in 2023. They do run flash sales and special offers throughout the year and you can find a list of the latest discounts here.
Is Seeking Alpha Worth It?
This review highlights what I think are the best data points and tools available for premium subscribers. This should help you decide if the subscription is worth the $10 per month (with discount) for your investing needs.
We all know that picking stocks can be a humbling experience. Even the most bullish forecasts can quickly trend downward with one negative headline. This is why every investor should consider multiple opinions on the stocks they track. Seeking Alpha Premium brings different viewpoints together in one place by showing you consensus scores from Wall Street analysts, SA authors, and the Seeking Alpha Quant formula.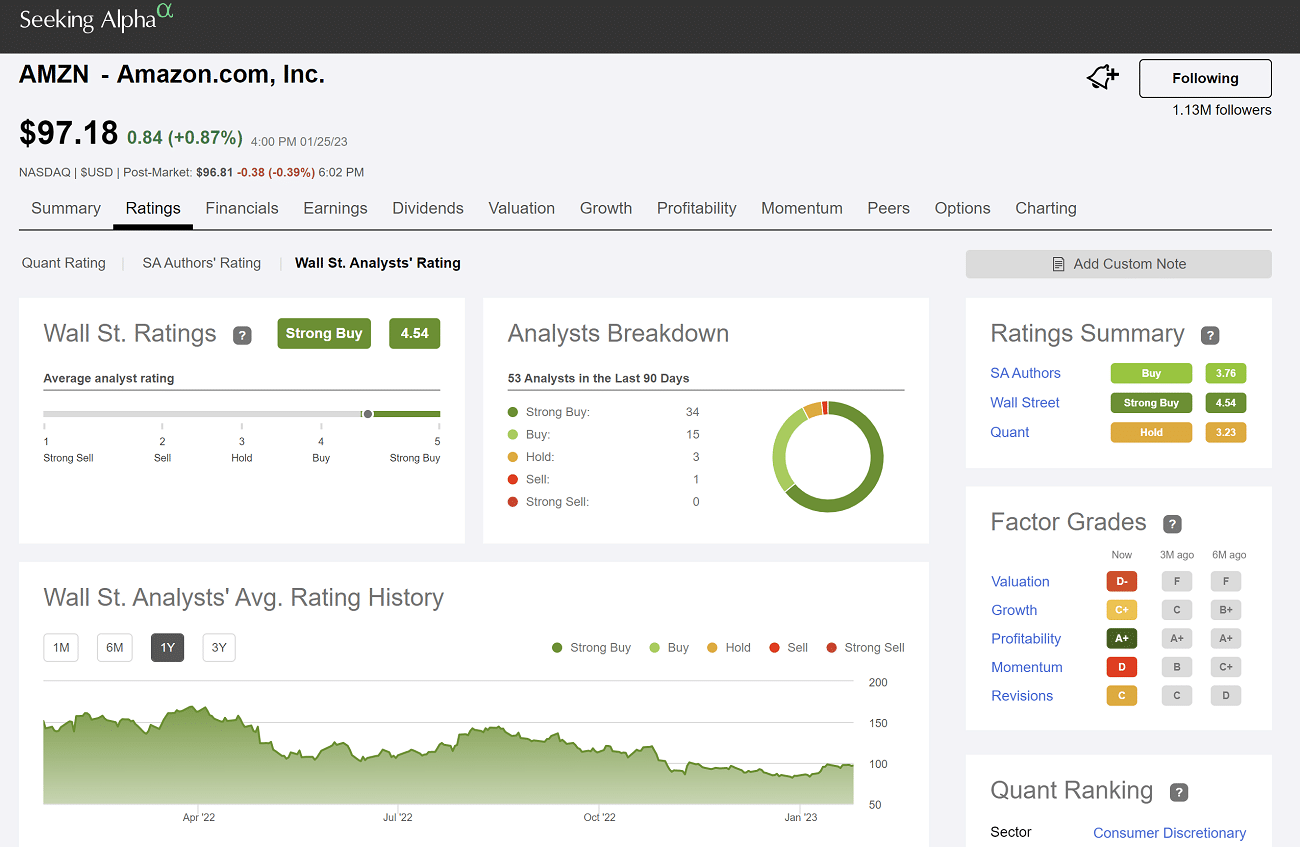 The image above shows the details behind Wall Street analysts' coverage of Amazon stock. While the data in this section looks quite bullish, you'll notice off to the right that the quant ratings have picked up some weakness in the stock here in early 2023. The quant formula gives AMZN a rating of hold due to the stock's current valuation, trading momentum and earnings revisions.
Seeking Alpha authors also have a more conservative buy rating on the stock compared to the strong buy given by Wall Street. Each of these rating categories (Wall Street, SA authors, and SA quant) have their own page where you can dig further into the score details. To me, this is a great way to get multiple opinions on a stock without having to visit several different websites. Outside of the quant formula, Seeking Alpha is an independent platform that hosts stock ratings from authors and analysts. This is an important distinction since it allows for a wide array of opinions on any given stock.
Earnings Transcripts
Stock earnings reports and conference calls are key events for investors to gauge the outlook for their favorite stocks. Seeking Alpha Premium not only provides detailed metrics and news updates about each earnings call, but it also gives you several handy tools for analyzing the events.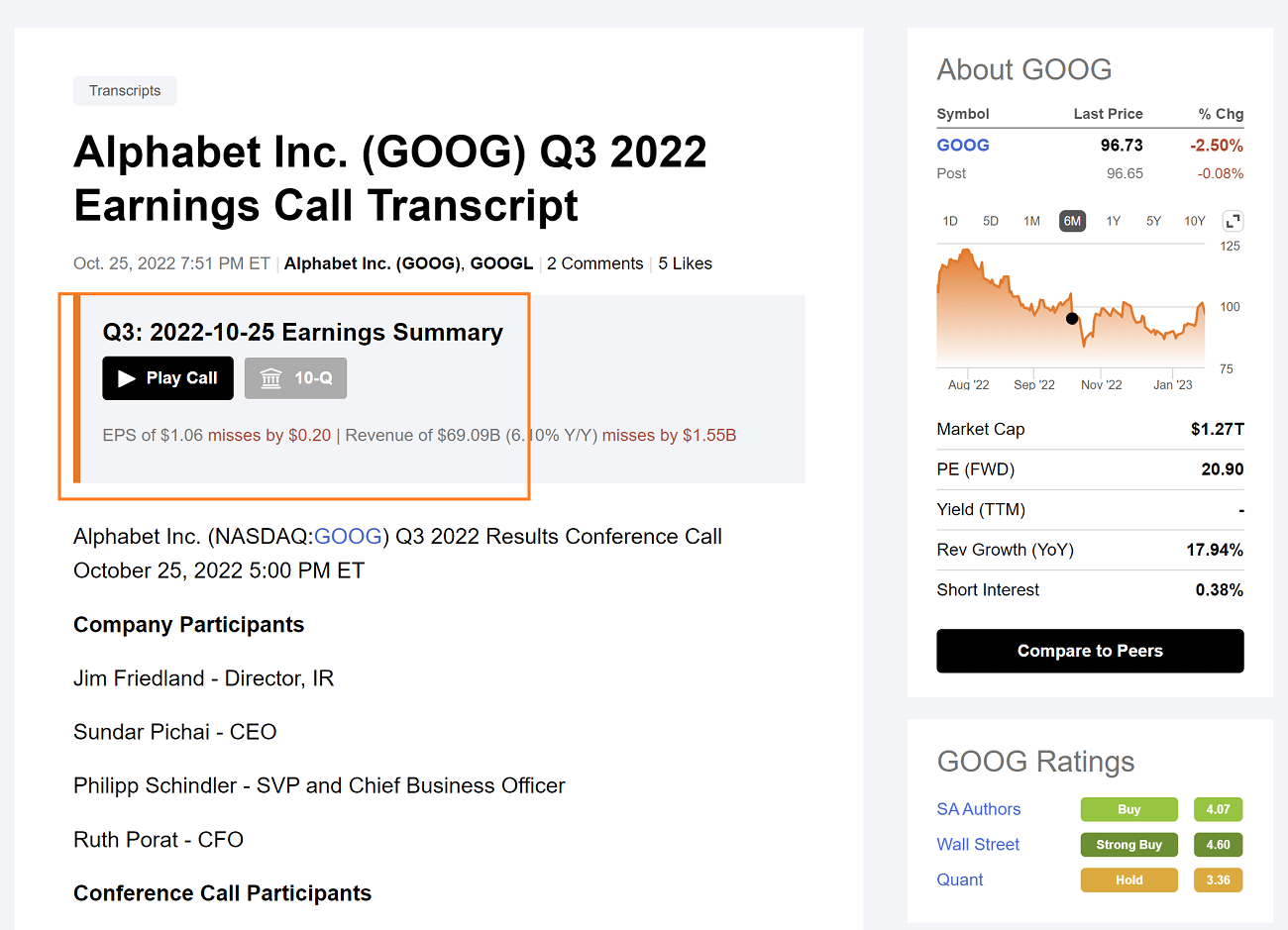 The image above is the complete transcript of a recent Google earnings call. Premium members get access to these articles compiled by the SA news desk. Notice the "play call" button that allows you to listen to a recording of the earnings call directly in Seeking Alpha. Very handy. The other bonus is the entire call transcript is included on the same page! The full page image would have been too large to show on my blog, but if you were to scroll down on the page you would see the full transcript annotated with each speaker's name. Pro tip: use Control+F to search for keywords like buybacks and product names 😉
Seeking Alpha also posts a copy of any earnings presentations or PDF press releases when a company publishes one. These typically take a couple days to post of the site, but they are VERY helpful if you like to reference old earnings reports. Visa's earning report section, for example, features PDF presentations and call transcripts from as far back as 2017.
This image shows how earnings presentations are implemented into the SA website…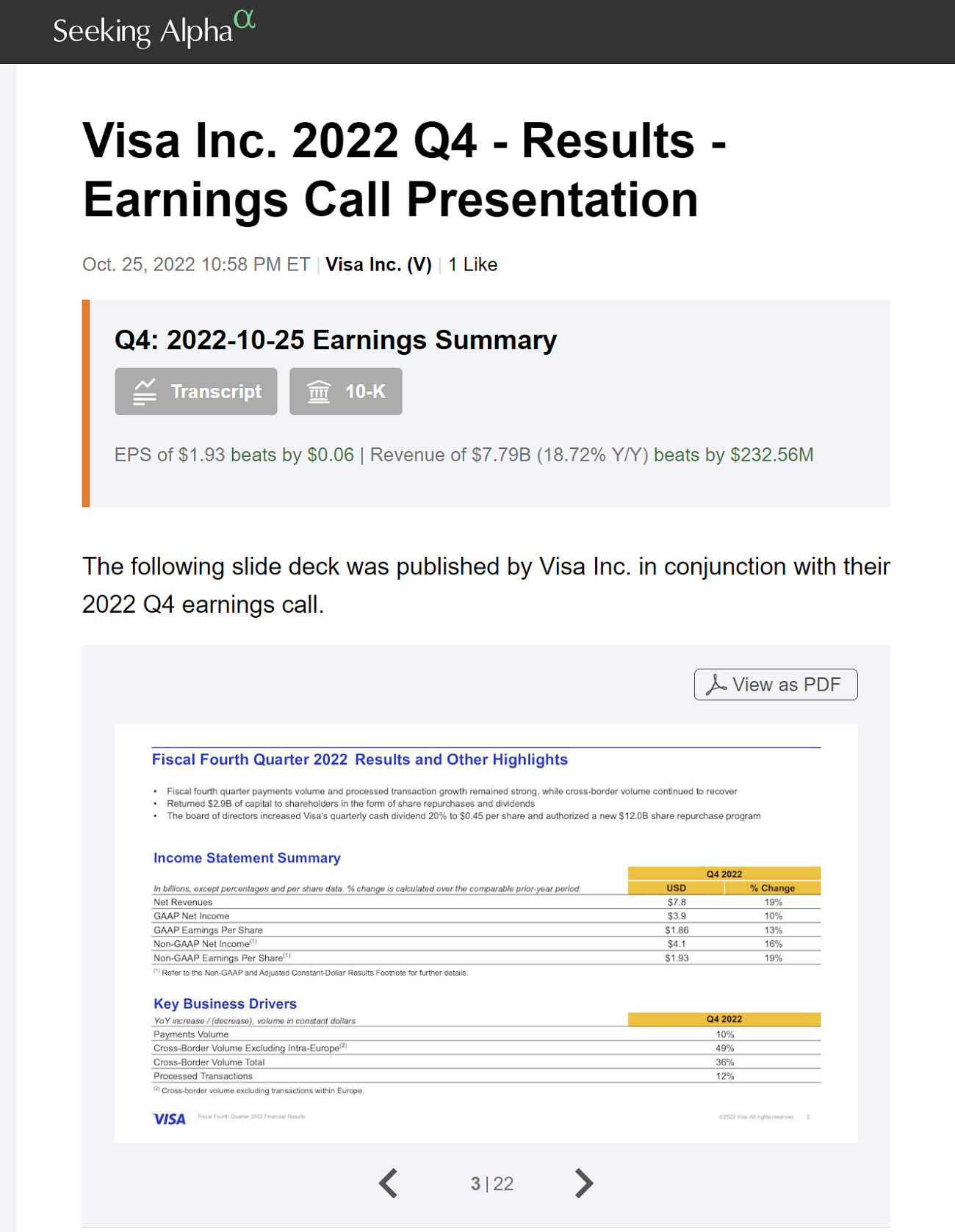 Stock Alerts
It might sound funny to list email and app updates for the latest articles as a top feature but Seeking Alpha Premium email alerts are a lifesaver. The basic version of SA will send you email updates, but with Premium you get the complete transcript and bullet point summary for every news release and analyst article. The best part is you can customize which stock alerts you are interested in and how you want to receive them.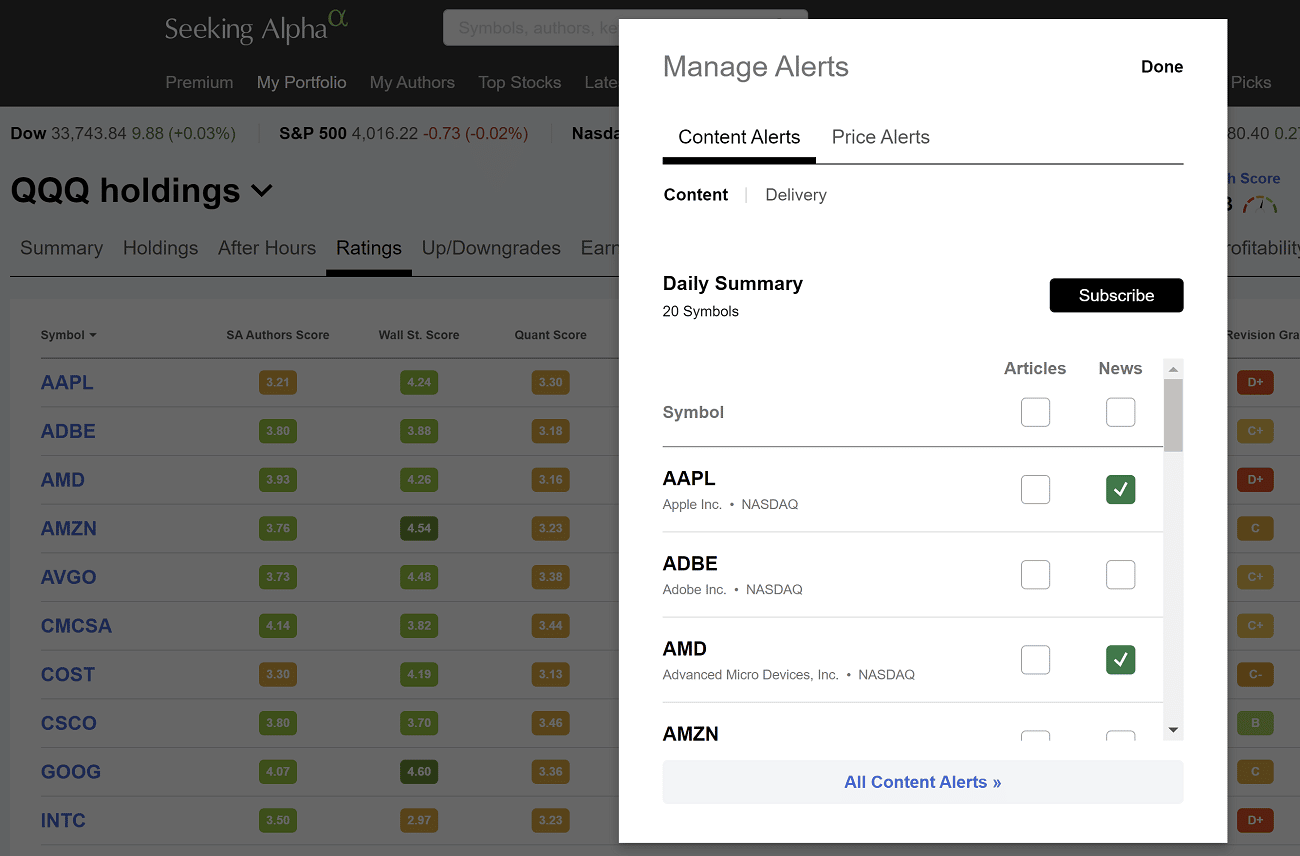 The image above is from a sample portfolio I made to monitor the top holdings of the QQQ ETF. Here I have highlighted the notification center where you can enable or disable email and/or app notifications for the stocks you want to receive alerts on. I personally prefer email updates because there can be several alerts per stock each day, particularly with big names like Apple and Google, and I don't want my phone buzzing all day!
Below is a sample of the type of news that comes through my inbox. This email alert is a summary of a recently published headline related to Google stock. You can see how all of the information is summarized in the bullet points making it easy to digest. Not pictured, below the bullet points, is the full article text that I can choose to read or skim through.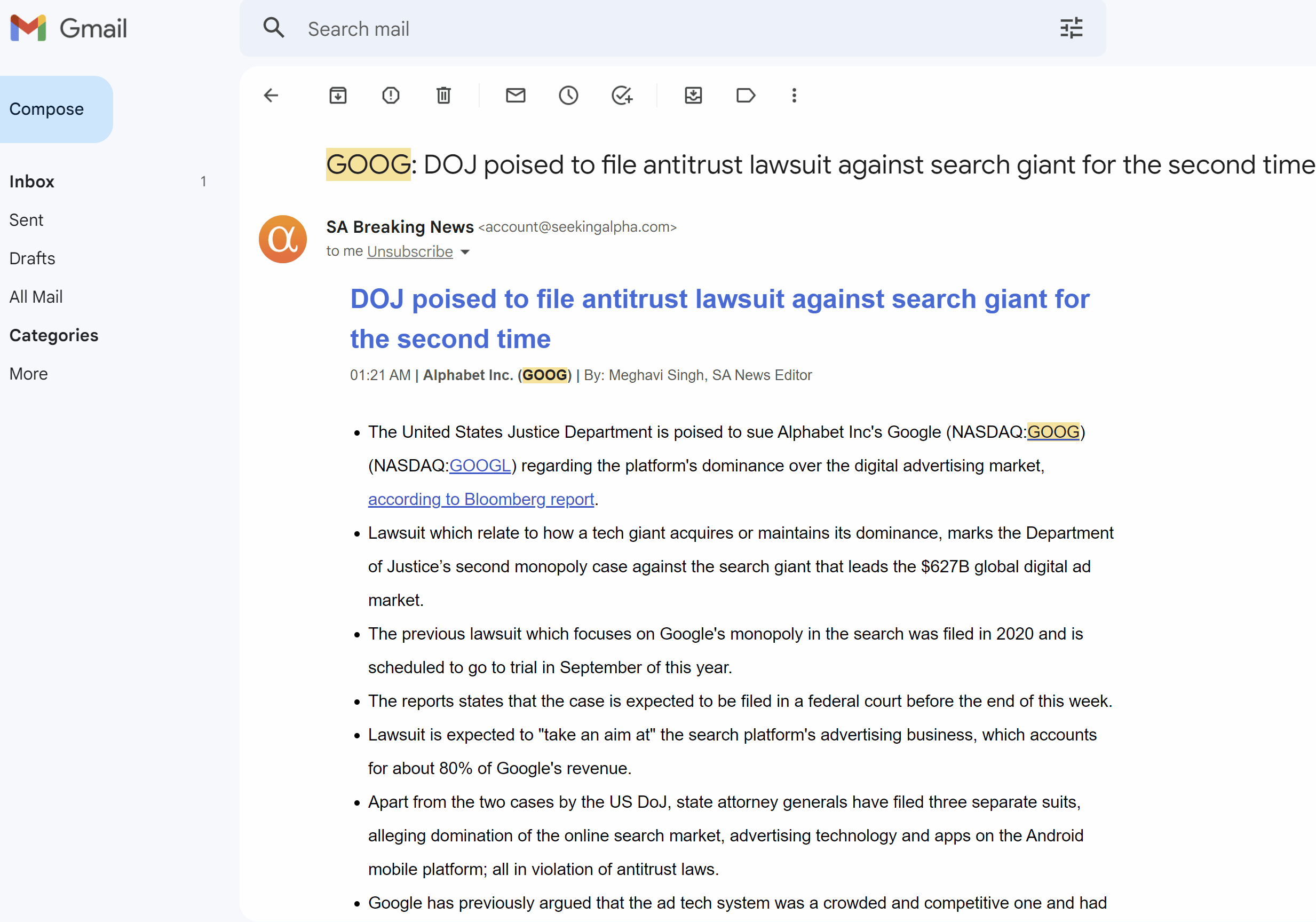 This relatively simple feature is a HUGE time saver for me. Only Seeking Alpha Premium users receive the full transcript and summary points within the email. This to me is the big win. I get the key points quickly in my inbox without the need to go to the website or app. It also allows me to save articles in a custom folder to reference later.
Stock Screener
There are dozens of stock screeners on the internet but few if any can match Seeking Alpha's selection of metrics to sort by. You can sort by stock ratings from each of the three segments – Wall Street, SA Analysts, and SA Quant Score. The real value though is being able to sort by metrics related to growth, profitability, dividends, and 2023 forward valuations.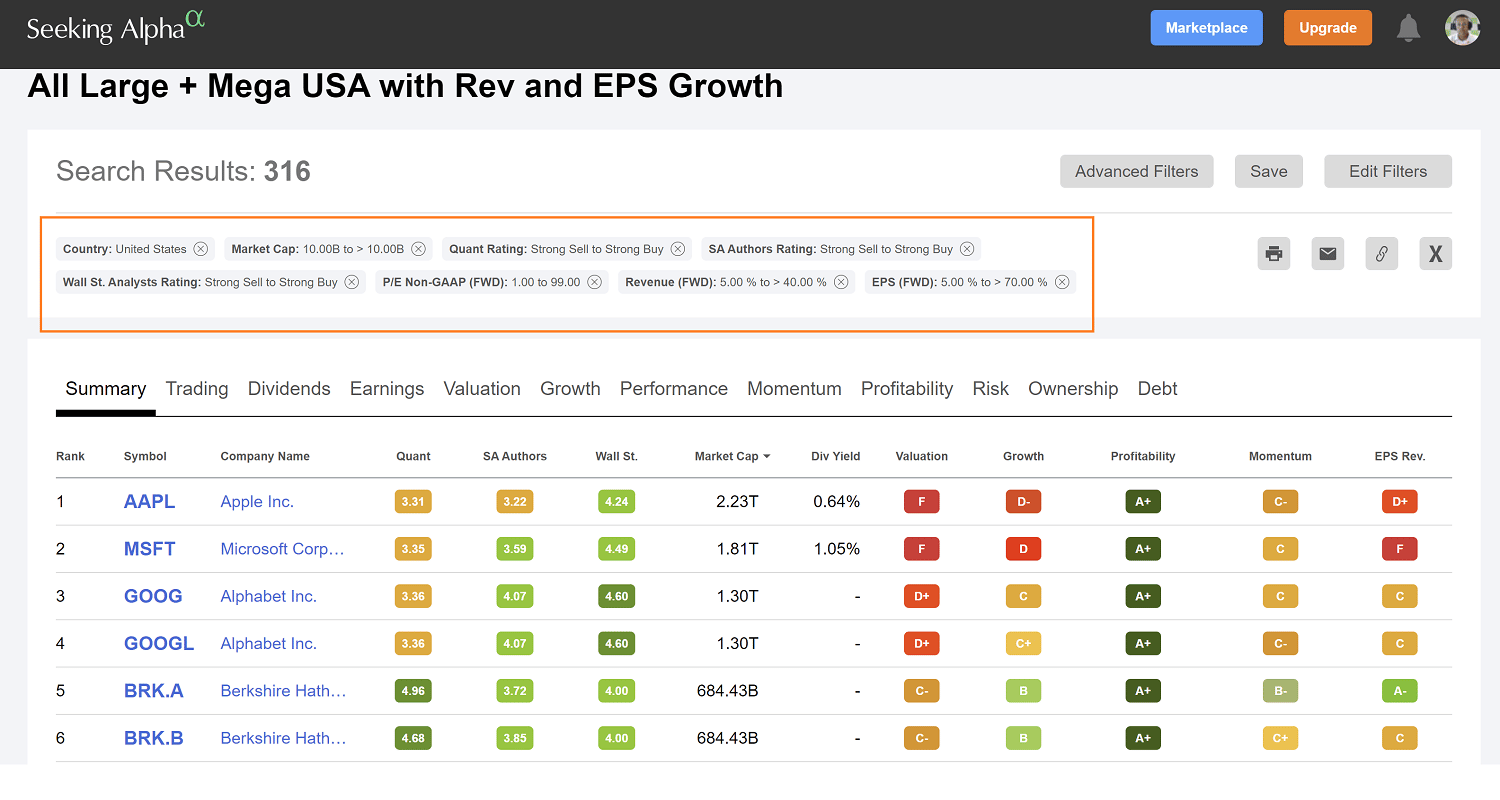 While there are hundreds of choices to experiment with, SA groups these metrics into categories so you can sort and compare in a sensible manner. For example, all dividend metrics like forward yield, payout ratio, and historical average yield are included under the dividends screener menu. From there it is a simple click to get to other menus like valuation, which includes more advanced metrics like price/cash flow, forward PEG ratio, and forward price/sales.
In the example pictured above, I did a sort for US stocks with a market cap over 10 billion, and forward revenue and earnings growth above 5%. I also added fields to display the buy/sell ratings for Wall Street, SA Analysts, and the quant score.
Here is a quick listing of the all sub-menus available in every screen. Each sub-menu has roughly ten technical metrics to browse through…
Trading Volume
Dividends
Earnings
Valuation
Growth
Price Performance
Price Momentum
Profitability
Short Interest Risk
Insider Ownership
Debt
Portfolio Tracker
The Seeking Alpha portfolio tracker works very similarly to the stock screener. It offers the same list of technical data as well the ability to sort by ratings and scores. IF you won multiple stocks then it is a very efficient way to gauge which ones might be worth adding to based on momentum and forward revenue and EPS numbers.
Syncing your portfolio with Seeking Alpha Premium is simple. They offer Plaid integration as well as API based connections. I use Ally Invest for my main portfolio and I had no problem setting up the API keys after reading through the tutorial.
Once your portfolio metrics are populated you get the same output as you would with the stock screener. This gives you the option to compare all of your stocks across dozens of valuation and performance metrics. The one missing feature I noticed is you won't find any gain/loss charting like you find in brokerage apps, but it does record your cost basis and gain/loss percentages for each individual holding.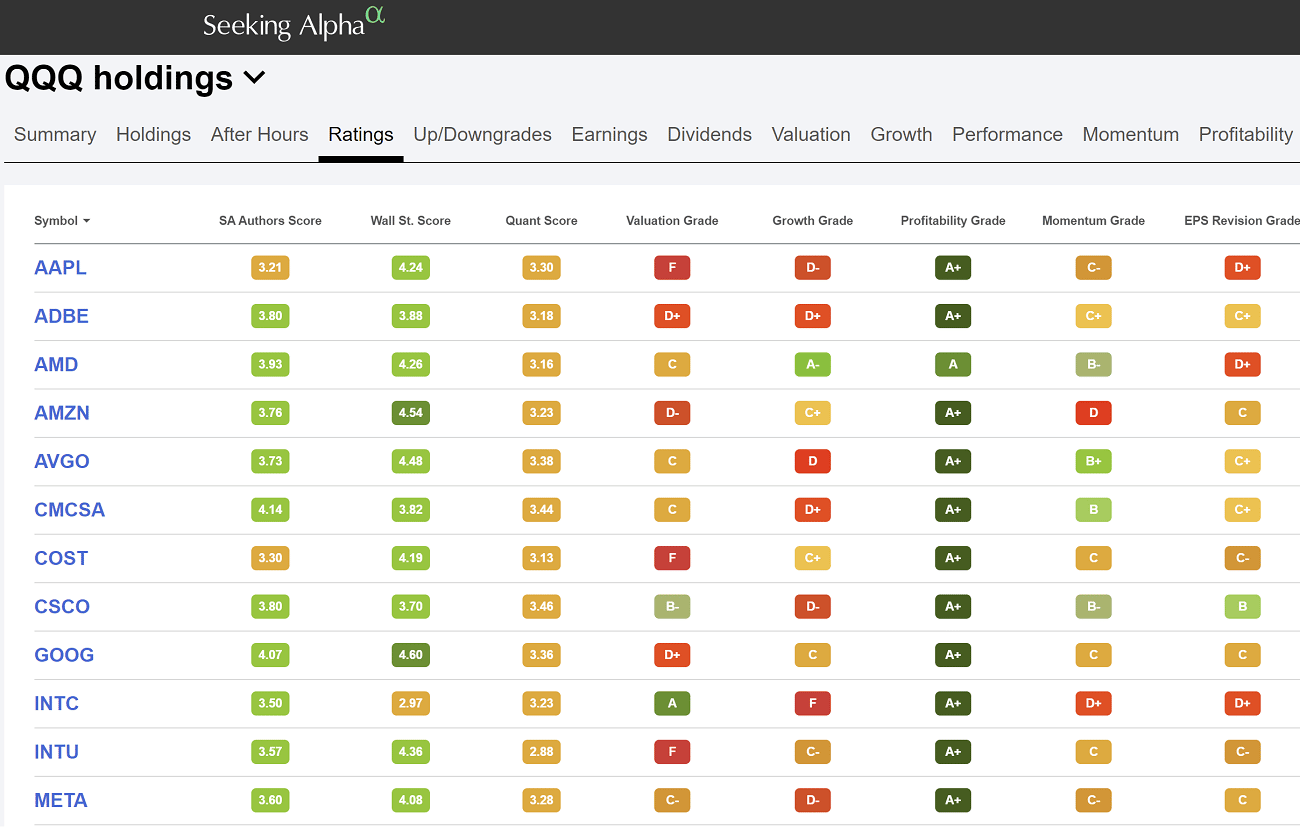 The image above is an example of the holdings tab for one of my sample portfolios. You can see the different sub-menus listed across the top of the image. SA makes it easy to compare all of your holdings across all of the same categories as the stock screener.
Top Stock Lists
Premium subscribers get access to dozens of curated top stock lists which are updated algorithmically based on their parameters. This is a great way to scan different industries for new stock ideas to research. Most of the top stock lists are compiled based on the Seeking Alpha Quant Score. I like this because it takes emotion out of the equation, but I personally have never purchased a stock solely on SA Quant Score.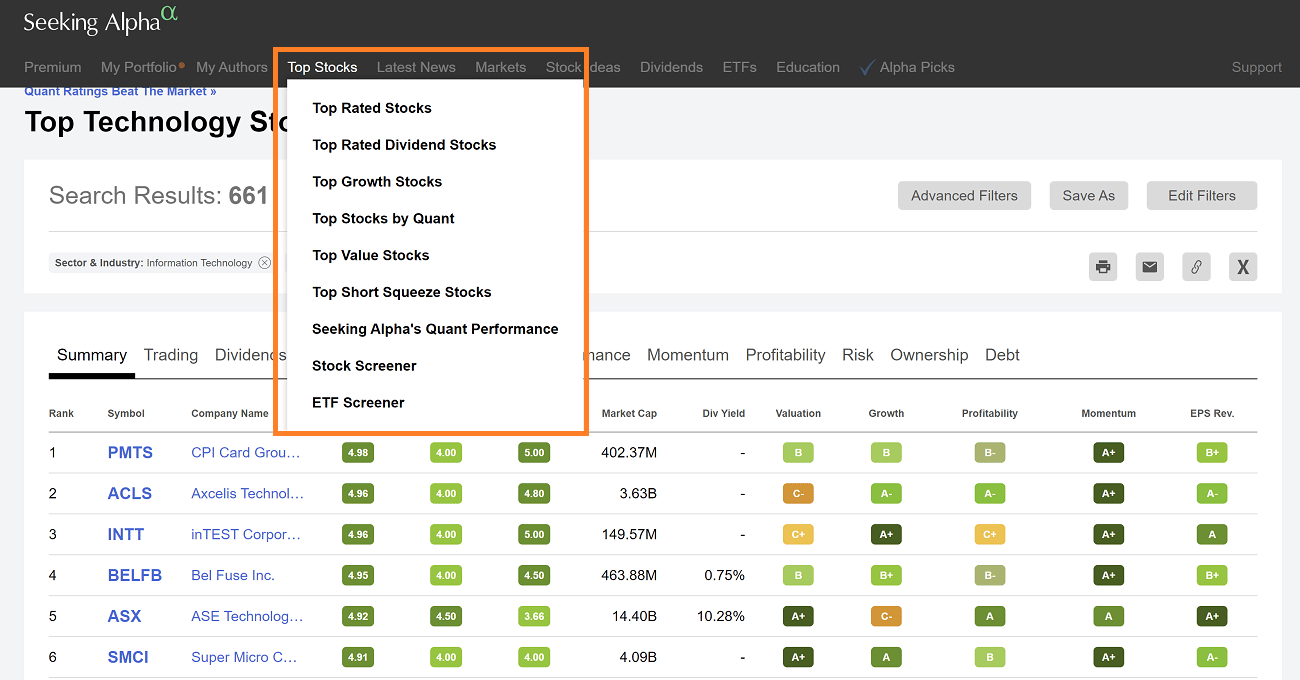 You can created your own automated stock lists by saving the settings from your own stock screener work. If you scroll a few images up from here, you'll see that my stock screener results are titled "All Large + Mega USA with Rev and EPS Growth" which is a custom stock list I created. This listed is automatically updated every day to add or delete stocks that no longer match the criteria.
Seeking Alpha Review – Bottom Line
Between the news updates, analysis coverage, stock screener, and portfolio tracker, I literally use Seeking Alpha Premium every day. The value of the information and opinions from a research standpoint are well worth the nominal cost. If you use my affiliate link below you instantly save over $100 off an annual subscription. The total annual price with the current discount is $119, which works out to be $10 per month. If you consider Morningstar costs 2x that price, and Zacks and Motley Fool charge hundreds of dollars PER MONTH for similar services, SA Premium is far and away the best value at this price.
Sign up for Seeking Alpha Premium and Save 50% with this exclusive discount!