TipRanks has plethora of tools to help you analyze stocks. While they are best known for their tracking of analyst opinions, there are several features I use every day to stay on top of stocks I invest in. This review (video below) walks you through the process of analyzing a single stock in TipRanks.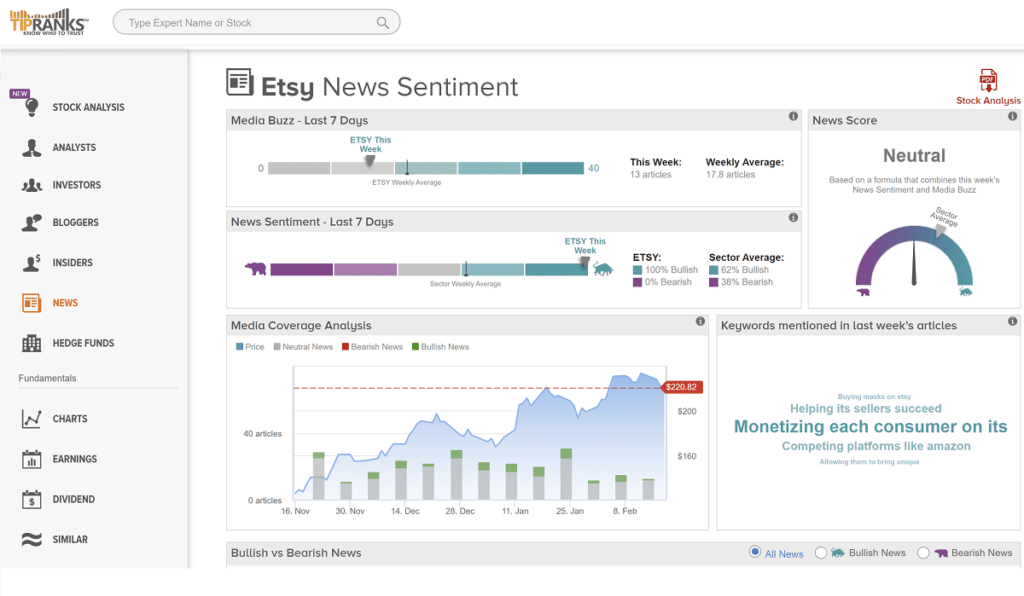 The example I use in the video is ETSY stock. I chose Etsy because the price has run up significantly over the past 12 months. Now a solid chunk of that price is fundamental considering the revenue and user growth they experienced during the pandemic, but there are other elements to Etsy's valuation that require further review.
Beginning at the ETSY TipRanks page you can quickly see what analysts are projecting for the stock over the next 12 months. This is one of the most notable features of TipRanks. I prefer to sort by the "best performing" analysts, who have scored well within Tip Rank's accuracy algorithm. When you use the performance filters and sort by most recent date you get an accurate view of the current sentiment of a stock.
But beyond just third-party opinions, you will also find hedge activity, blogger opinions, and TipRanks "smart score" for nearly every tradeable stock on the market. I also find their news tab incredibly helpful. This feature provides direct links, sorted by most recent date, for all the articles covering the stock you are researching. Perhaps most helpful is they filter out low-quality news sources and focus on more trusted domains like Motley Fool, Reuters, Bloomberg, and Zack's Investment Research. This features saves me a ton of time when researching the latest news about a stock.
Watch the video below for a completed walkthrough of all the features I mentioned here. If you find this review helpful, please consider using my referral link here to sign up for TipRanks. I make a small commission on each sale which helps support my efforts on 40 Finance.
This post originally appeared as a video on the 40 Finance YouTube Channel
Interested in learning more? Check my this TipRanks review for more details on the other services they provide.